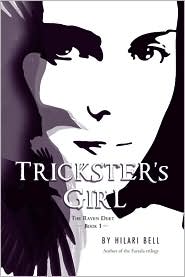 Trickster's Girl
Author:
Hilari Bell
She had no fear of the bikers' finding her tonight. Those horrible moments in the Woodland Cafe seemed as if they'd happened days ago, instead of just this morning.
Excerpt from page 147
(according to the nook)
Trickster's Girl is now available
It is really hard for me to only share two sentences by the way!
Miz B and Teaser Tuesdays asks you to:
Grab your current read.
Let the book fall open to a random page.
Share with us two (2) sentences from that page, somewhere between lines 7 and 12.
You also need to share the title of the book that you're getting your "teaser" from … that way people can have some great book recommendations if they like the teaser you've given!