Dollhouse
By Anya Allyn
A YA Paranormal Mystery/Horror
Book blurb:
Fifteen-year-old Aisha disappears in the dark forests on a school hiking trip. She's the latest in a string of children to vanish there over the past five years. The towns surrounding the forests are on edge and they want answers. And wildboy Ethan—Aisha's boyfriend—is on the run after he and his grandfather are blamed for her disappearance.
Cassie is just about the only friend Ethan has left. She's been secretly in love with him ever since her mother dragged her to the wilds of Australia from Florida six months ago.
Desperate to prove Ethan's innocence, Cassie searches the forests with Ethan to find out what really happened to Aisha. But Ethan's growing strangely silent, and Cassie's left questioning if her feelings for him are clouding her judgment.
Cassie discovers a dark secret lurking in the heart of the forests; a secret world of nightmarish horrors—where nothing is as it seems, where the supernatural invades your soul, where the people she trusts most might be the people she can trust least, and where escape exists only in dreams.
kindle
paperback
Goodreads:
http://www.goodreads.com/book/show/13565822-doll-house
YouTube Book trailer:
http://www.youtube.com/watch?v=4ap9TvdKP00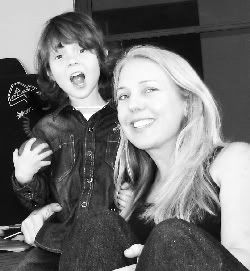 Author Bio:
Anya Allyn lives near the beach an hour north of Sydney, Australia. She loves anywhere outdoors that is natural and wild. Or anywhere indoors where Black Forest Cake is on offer. She has four amazing boys and enjoys their energy and happy-go-lucky spirit, and wishes she could plug into some of that energy on days when her 'get up and go' has packed up and gone! She is a former Features' Editor/Community Manager for a media organisation in Australia. The idea for Doll House was born after a trip to the beautiful Barrington Tops region of Australia--sparked by places there such as Devils Hole, Ladies Well and Thunderbolt's Way.
http://dollhousetrilogy.com
My Thoughts:
Do you like reading books that freak you out? Yes? Oh, well then, you should pick up Doll House by Anya Allyn because this book was one of the creepiest young adult books I have ever read.
The thing about Doll House is, there a quite a few twists and if you know about them it will completely ruin the book for you. So... I'm just going to tell you a little bit so that you can get the full experience on your own.
The writing is really quite good. The story moves along at a great pace. I don't remember screaming at the characters to stop being stupid. Although there were a few moments when I was just like ugh! *face palm*. I loved the way Allyn kept the suspense building and kept you guessing throughout the story. My only complaint was that at the end of the book I got a little confused by one scene and thought that one other needed more.
Warning though this book could creep you out, Enjoy!
Are you ready to be creeped out too? You are? Great! Enter here to win your very own ecopy!
a Rafflecopter giveaway