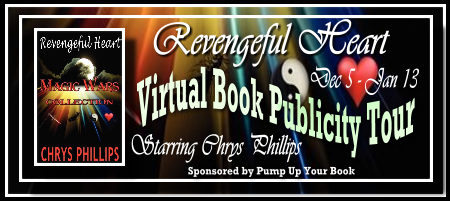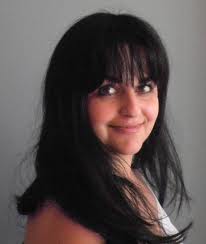 About Chrys Phillips
Chrys Phillips
debut book series, Magic Wars Books is available worldwide. She is a successful playwright with many of her plays being performed in full scale theater and musical productions. When not creating her books, screenplays and theatre scripts, she can be found shopping for her favorite accessories, spending time at Australian beaches and/or traveling the globe to attend her public speaking & writing events. She's a self-proclaimed chocolate and movie addict.
Her latest book is the YA urban fantasy,
Revengeful Heart
.
You can visit her website at
www.magicwarsbooks.com
. Visit her at Twitter at
www.twitter.com/magicwarsbooks
and Facebook at
www.facebook.com/magicwarsbooks
.
You can visit Chrys Phillips author/public speaking web
www.neversaycant.yolasite.com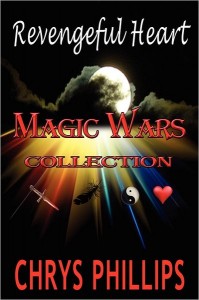 About Revengeful Heart
ITS A WICKED RUN OF LOVE ~ SECRETS ~ REVENGE ~ HEARTBREAK AND FEAR…ONE TASTE AND YOU'LL BE BEGGING FOR MORE!
Can a broken heart be mended? Are soul mates destined to be together no matter what forces try to keep them apart?
Lakeview exists…it's a humble pleasant place to live…but amongst its scenic surrounds immortals are dwelling some are evil enough to haunt and horrify you for eternity and others are loving and full of heroic actions. Would you befriend them? How would you know who's who?
Teens Rick, Miki & CJ attend Lakeview High and live their teen lives with their secret loves and school hassles…evil is arriving and their lives are never going to be the same! Who wins? Who cries? Be warned its a wicked ride…of hope, tears, strength, power, love and dangerous choices filled with deception, betrayal and tenderness!
BARNES AND NOBLE
SMASHWORDS
ITUNES
Book Excerpt
… A spine-chilling silence, swept across Lakeview. The scary
peace that responded in Lakeview was disturbing and frightening!
Nature was still and the night's sounds had abruptly
halted. Rick, Miki and CJ looked at each other, ready to fight
Mortyla and the dark presence of her revenge had begun!
Loud crushing sounds could be heard in the distance and
Rick, Miki and CJ ran frantically ahead to see what was happening
towards the loud crashing sounds. In the blackness of
the night Mortyla could be seen walking slowly along View
Road, with her arms stretched out by her sides. Her fingers
flexed and open, casting lightning bolts in the thousands,
onto the road and whatever else came into her path. Cars
were exploding into flames while other cars, just rolled along
and only to stop their destructive tumbling when they hit an
object. Shop windows fragmented into explosions of glass and
cars went flying into them. Street signs and smaller objects
paid the price for being in her way. Cats scattered, ensuring
they would not be scathed…
…she walked slowly, heavily and with intent, to
destroy. In a robotic trance she moved forward, with destruction
exploding behind her!
Watch the Trailer
Watch her other trailer!
Revengeful Heart Virtual Book Publicity Tour Schedule
Monday, December 5
Wednesday, December 7
Thursday, December 8
Monday, December 12
Tuesday, December 13
Friday, December 16
Tuesday, January 3
Thursday, January 5
Friday, January 6
Monday, January 9
Wednesday, January 11
Thursday, January 12
Friday, January 13