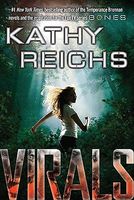 Miz B and Teaser Tuesdays asks you to:
Grab your current read.
Let the book fall open to a random page.
Share with us two (2) sentences from that page, somewhere between lines 7 and 12.
You also need to share the title of the book that you're getting your "teaser" from … that way people can have some great book recommendations if they like the teaser you've given!
Who would risk shooting four kids? It was crazy. A quadruple homicide involving Bolton Prep students would make the headlines for months. Every resource would be thrown at the investigation. The risk of capture would be enormous.
Virals by Kathy Reichs
Page 339