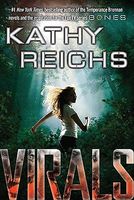 ViralsAuthor:
Kathy Reichs
Release Date:
November 2, 2010
Published by:
Penguin Group (USA) Incorporated
Pages:
464
Target Age:
Young Adult
Source:
Star Book Tours
Summary:
Tory Brennan, niece of acclaimed forensic anthropologist Temperance Brennan (of the
Bones
novels and hit TV show), is the leader of a ragtag band of teenage "sci-philes" who live on a secluded island off the coast of South Carolina. When the group rescues a dog caged for medical testing on a nearby island, they are exposed to an experimental strain of canine parvovirus that changes their lives forever.
As the friends discover their heightened senses and animal-quick reflexes, they must combine their scientific curiosity with their newfound physical gifts to solve a cold-case murder that has suddenly become very hot-if they can stay alive long enough to catch the killer's scent.
Fortunately, they are now more than friends- they're a pack. They are
Virals
.
My very first experience with Kathy Reichs was a success. The Virals won me over, completely. Some of the things they did were a little far fetched maybe, but hey it's a book right? Tory was a likable, strong, main character. She was ballsy and wasn't afraid to stand up for what she believed in. A great role model if you can get around the whole breaking the law for good reason stuff. Her friends were entertaining especially Hi, he cracked me up and I really loved him. Ben was so quiet I couldn't get a good read on him but that was his thing, the strong, silent type. Shelton was cute if a little nerdy but totally in a good way. I liked the sci-fi powers from a contagious disease angle as well. Over all a good read with a great mystery. I will definitely be reading the next book in this series.