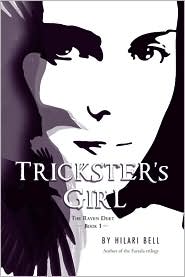 Trickster's Girl
Author:
Hilari Bell
Release Date:
January 2011
Publisher:
Houghton Mifflin Harcourt
Pages:
289 (on the nook)
Target Age:
Young Adult (and middle grade)
Source:
From the publisher through NetGalley
Summary from Barnes and Noble:
In the year 2098 America isn't so different from the USA of today. But, in a post-9/11 security-obssessed world, "secured" doesn't just refer to borders between countries, it also refer to borders between states. Teenagers still think they know everything, but there is no cure for cancer, as Kelsa knows first-hand from watching her father die.
The night Kelsa buries her father, a boy appears. He claims magic is responsible for the health of Earth, but human damage disrupts its flow. The planet is dying.
Kelsa has the power to reverse the damage, but first she must accept that magic exists and see beyond her own pain in order to heal the planet.
Trickster's Girl isn't just a story, it sends a message as well. Granted it's a message we've been receiving from all over lately: we are killing our Earth. In this story human's have once again created something that is killing the Earth. A mysterious boy named Raven comes to Kelsa and claims he wants to help her save the trees. Raven does want to help her but he definitely has his own agenda as well. While this book has some action scenes that were a bit tense and exciting I'm afraid that the book's story didn't stick with me as much as I would have liked, and at moments it was a little to easy to put down. I did enjoy Kelsa's character, she is brave and adventurous and I really enjoyed reading about her journey. The healing process that she was able to experience on a personal level while she was healing the planet was interesting to read. I was kind of expecting a dystopic, romantic storyline when I picked this up and it didn't really live up to that expectation at all. There is no romance and even though this novel is set in 2098 this really isn't a dystopic world it's more like there are some technological upgrades. I would recommend this to the younger, young adult readers the most.