Sixteen year-old Kara Nightingale's ordinary life is suddenly turned upside-down when she dies in a freak accident, and she wakes up in a strange new world with a new career—as a rookie for the Guardian Angel Legion. Kara hurtles towards dangerous missions with the help of her Petty Officer and friend, David.
But when she discovers a Mark on her leg, the entire Legion accuses her of being a Demon spy. Angels are dying, and David begins to pull away from her. Can Kara prove her innocence as she becomes the Legion's only hope?

It's going to take a miracle to save the Legion, and Kara's luck has just run out...
Are Angels the new Vampires?
At first I thought Werewolves would be the next big thing with the success of Maggie Stiefvater's series, The Wolves of Mercy Falls — but it seems the winners are Angels. With Becka Fitzpatrick's Hush Hush, Fallen by Lauren Kate, and Cassandra Claire's The Mortal Instruments popularity, I definitely saw an increase in books with angels in them. I also believe that the success of Philip Pullman's

His Dark Materials

series influenced this trend. The idea of forbidden love between supernatural beings and mortals is captivating. We had that with the Twilight saga – and now it's coming full force with the Angels. Just like their blood-sucking supernatural cousins, angels are the next best thing—and here to stay for a while.
I think these bad boy hotties really appeal to teenage girls. They're immortal, gorgeous, dangerous, and otherworldly fine creatures. Who wouldn't want to read about the them. Although my book is not a teen romance novel, it still has romantic elements in it. It's more of an action-packed-ride with some fragments of the weird thrown in. But hey, they're guardian angels too…and they kick some serious butt!
Here's an interesting articled I found with Anne Rice discussing if Angels are the new Vampires. Check it out.
http://www.guardian.co.uk/books/2009/oct/26/angels-vampires-anne-rice
About Kim Richardson
I grew up in a small town in Northern Quebec, where I developed a wild imagination because—let's face it—there was nothing else to do. I surrounded myself with art/books/animation and fell in love with fantasy novels and movies like, Labyrinth and The Dark Crystal. I loved to be transported to other worlds.

Years later, I left my little "hick town" and moved to the city of Montreal, where I studied 3D Animation. I became an Animation Supervisor for a VFX company, and stayed in the field of animation for 14 years.

Now, I'm a full-time writer, enjoying the country life with my husband and two Bernese Mountain dogs, Simba and Maggie. My children.

I write stories geared towards children because, let's not tell lies, I'm still a 13 year-old at heart!
This book tour blog post was brought to you by:
Kim Richardson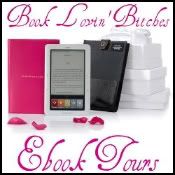 &