Embody
Author:
Jamie Magee
Expected Release:
July 2011
Publisher:
Lulu.com
Target Age:
Young Adult - Adult
Source:
Received from author as a part of the Book Lovin Bitches ebook tour
Summary from
Goodreads
Not many Scorpio's are known for their patience, and Willow Haywood is no different. Her only desire is to love Landen Chambers and redeem the lost souls of Esterious, but the path to that desire is long, dark and dangerous...
Before Willow's life had a chance to balance the sudden revelations and grief she had to endure to get to Chara a disturbing discovery is made. A photo, one that shows Willow blissfully embracing the flawless image of Drake Blakeshire; giving her not only proof that she had lived before, but that she had loved him.
Running away from the memory of Drake's hypnotizing touch, and the prophecy set before her seemed like the logical thing to do. That is, until a dark dream reignites her passion to save the hopeless dimension of Esterious. Willow struggles to find patience – to learn everything she needs to know before she faces Drake again, but her eagerness is dangerous and one step in the wrong direction takes everything and everyone away from her – the only way to survive this trial is for Willow to remember who she is and what she really wants out of this life. The question is….can she do that?
I Loved This Book!
Wow! This was such a great book. I found myself having to read Insight (book 1) a little slower than I normally read. The writing and descriptions were so beautifully detailed that I didn't want to miss anything. However, I felt like there was a lot more dialogue when reading Embody, and I was able to read it a bit faster. This did not in anyway take away from the story, in fact I definitely enjoyed Embody even more.
I loved reading the next step in Willow and Landen's journey. I love, love, love Willow and Landen as a couple. The love, loyalty and trust that they have in each other is so amazing and is what the entire dimension of Chara is based on. What a wonderful world that would be! The introduction of new characters Evee and Stella had me entranced and that part of the story ended up being my favorite. I still love the idea of soul mates, it is just so romantic to me to know that there is just that one perfect person for everyone. I really hope that there will be more books in this series because I really want more of this wonderful world.
Join Jamie on tour!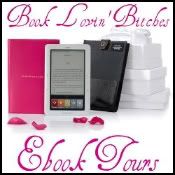 Disclosure of Material Connection: I am a member of the Book Lovin' Bitches Ebook Tours and a copy was provided to me by the author. Although payment may have been received by Book Lovin' Bitches Ebook Tours, no payment was received by me in exchange for this review nor was there an obligation to write a positive one. All opinions expressed here are entirely mine and may not necessarily agree with those of the author, the book's publisher and publicist or the readers of this review. This disclosure is in accordance with the Federal Trade Commission's 16 CFR, Part 255, Guides Concerning the Use of Endorsements and Testimonials in Advertising.