The Survivors
Author:
Amanda Havard
Released:
March 29, 2011
Published by:
Chafie Press, LLC
ISBN:
9780983319023
Target Age:
Older Teens and Adults
Pages:
271
Source:
Book Lovin' Bitches blog tour
Summary from Goodreads:
In 1692, when witch trials gripped the community of Salem, Massachusetts, twenty-six children were accused as witches, exiled, and left for dead. Fourteen of them survived.
The Survivors is the first installment of the tantalizing tales of the fourteen ill-fated Survivors and their descendants, who have been content in hiding for over three centuries. Isolated on a Montana mountainside, only Sadie, the rogue daughter, dares to abandon the family's sacred hiding place. But no matter how far Sadie runs, something always pulls her back.
On a muggy summer night in Tennessee, she witnesses a shocking scene that will change her life forever. It is the first in a sequence of events that will drag her from the human world she's sought to belong to for over a century and send her back to her Puritanical family and into an uncertain future filled with cunning witches, mysterious nosferatu shape-shifters, dangerous eretica and vieczy vampires, millennia-old mythology, and the search for her own mortality. After all...
HOW DO YOU KILL A SURVIVOR?
The Survivors will steal your heart and invade your mind. Fall into the pages of Sadie's life, a world so frighteningly similar to your own, you'll find yourself wanting to go to the Montana mountains to find the Survivors for yourself.
And it is only the beginning.
I Really Liked It!

Sadie is such a complex and interesting character. All she seems to want out of life is to find out what she is and how to end her existence. Looking for these answers, she has left her isolated life and the only family she has ever known. She strives to fit into a human society feeling like she never quite gets it. Sadie's story kept me guessing through out the entire book and I wasn't really sure where the story was headed until it slapped me right in the face. During the first half of the book Sadie is just trying to maintain a seemingly normal life by attending her one and only real friend Corrina's wedding. By the second half of the book things really speed up and start to come together. Sadie starts to find answers to her many questions about who she and the people around her really are. Throughout the book there are a few flash backs that talk about Sadie's family and how they ended up in Montana. Those flashbacks were very interesting, and I think I liked those parts of the story just as much as I enjoyed Sadie's personal story. The Survivors is written from Sadie's point of view so sometimes the story is very much in Sadie's head. I've read other books that are written from a first person point of view, and it doesn't always seem to work for me, but I found it to be very enjoyable in this case.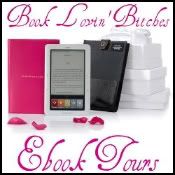 Disclosure of Material Connection: I am a member of the Book Lovin' Bitches Ebook Tours and a copy was provided to me by the author. Although payment may have been received by Book Lovin' Bitches Ebook Tours, no payment was received by me in exchange for this review nor was there an obligation to write a positive one. All opinions expressed here are entirely mine and may not necessarily agree with those of the author, the book's publisher and publicist or the readers of this review. This disclosure is in accordance with the Federal Trade Commission's 16 CFR, Part 255, Guides Concerning the Use of Endorsements and Testimonials in Advertising.