As children, Lenny's and Saline's parents brought them to Southern California to escape the nightmares. But after their parents die in a horrible car accident, their adoption by longtime family friend, Busek, proves nightmarish in its own right. Busek is abusive to his son, Dustin, and does very little to hold the young family together. The trio of kids become friends and grow up as a family. Outwardly, they are unruffled by life's events, yet as teens the emotional aftermath of Saline and Lenny's parents' deaths lingers and eventually catapults Lenny and Saline on individual journeys back to their old hometown.
Saline journeys with a small church group which has regular excursions to her old hometown in Lowery, Washington. She discovers the group is protecting a powerful secret that will change her life.
Lenny, on the other hand, becomes stranded in King City. There, he meets someone who unexpectedly and unknowingly guides him to a place in Washington where something might be waiting for him. Impulsively, he makes his way there and discovers that the simple world he has been living in is vastly different from what he could have ever imagined
Meanwhile, Dustin remains in Southern California and meets a group of youth who stumble upon the city's plan to replace the local library with a jail. In the process of this discovery they learn of one of the largest secrets society has ever kept, a secret waiting for them underground, in blackness.
About U. L. Harper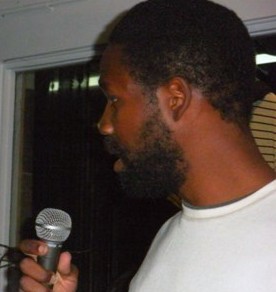 U.L. Harper is an after-school program Site Director in Long Beach, California. Over one hundred students attend his program. He previously worked as a corporate manager, and a journalist for a now defunct news agency in Los Alamitos, California. Newspapers are part of his writing background but he also dabbled in poetry. His poetry is published in The Body Politic chapbooks. He is the author of In Blackness, The Flesh Statue and the short story book Guidelines for Rejects. You can visit U.L. at http://ulharper.com/
Chapter 1

When the Future Is The Past

Dad stood in front of the car, staring at their two story house. With his Mariners cap covering a balding spot on the top of his head, he gently stroked his nicely trimmed beard and moustache.
Ten year old Saline and nine year old Lenny sat in the backseat.
Saline leaned forward to get a better look at her mother. "What's he doing standing there?"
"He's saying goodbye. Time to put those nightmares behind us."
The kids had forgotten about the nightmares they had years ago. They had them for months. This is what was weird: now that the nightmares had returned, they had to move back to California in hope of "a better economic situation" so Dad said.
Dad smacked his hands together, walked around to the driver side door and got in the car.
As Dad entered, Lenny's face twisted in contemplation. "What if the dreams are real?" Lenny said.
Everyone in the car froze.
Dad turned and looked at Lenny. "Monsters aren't real." He took a long look at Mom as she handed him the keys. "Are you okay?" Dad said.
Looking straight ahead, Mom mumbled, "No."
Dad gazed at Mom again. She did not make eye contact with him as he inserted the key into the ignition. "Here we go," he said.
And they were off to California.
Over a thousand miles sounded pretty far. Their yellow Pinto never seemed so small. Lenny and Saline had an issue with space in the vehicle. Neither of them could stretch out. If they wanted to lay down or extend their legs, they couldn't. There was either too much air or not enough air coming in through the windows, and Dad's music was that of the incomparable Barry Manilow. Dad kept looking back at them and saying, "What, you don't like the Manilow? You don't like the...Manilow?"
"Okay guys," Mom said. "Look out the window and say bye to Washington. These are Washington trees. These are Washington roads. Forget about any Washington schools."
"Sally, don't do that." Dad gave Mom a look like she had been chewing with her mouth open. "You don't have to be all passive aggressive." He raised his voice in a gleeful manner. "Now tell me you don't like the Manilow." Then he turned up the radio.
Look for In Blackness by U.L. Harper at the following:

Amazon
Barnes & Noble
Smashwords